Case Report
Publish Date : 2019-04-25
Long-term survival and complete response to first line Anastrozole in breast cancer patient with cutaneous metastases only
Theophil Sedloev
1
, Alexandrina Vlahova
2
, Slavyana Usheva
1*
, Mariela Vasileva-Slaveva
3
, Tsvetelina Spiridonova
1
, Assia Konsoulova
4
Article information
Affiliation
1Department of Surgery, University Hospital "Tzaritza Joanna – ISUL", Medical University of Sofia, Bulgaria
2Department of Pathology, Medical University of Sofia, Sofia, Bulgaria
3Department of Surgery, University Hospital "Alexandrovska", Medical University of Sofia, Sofia, Bulgaria
4Department of Medical Oncology, Complex oncological centre Burgas, Bulgaria
Corresponding Author
Slavyana Usheva, MD, Department of Surgery, University Hospital "Tzaritza Joanna – ISUL", Medical University of Sofia, Bulgaria, 8, ByaloMoreStr, Sofia 1527, Bulgaria, Tel: 00359897077717; E-mail: slavyana_u@abv.bg
Citation
Sedloev, T., et al. Long-Term Survival and Complete Response to First Line Anastrozole in Breast Cancer Patient with Cutaneous Metastases Only. (2019) Int J Cancer Oncol 6(1): 4-7.
Copy rights
© 2019 Sedloev, T. This is an Open access article distributed under the terms of Creative Commons Attribution 4.0 International License.
Keywords
Anastrozole, Breast cancer,
Abstract
Breast cancer (BC) is the most common malignancy in women worldwide. Metastatic breast cancer (MBC) represents a wide spectrum of heterogeneous conditions with different secondary spread sites, time to relapse and biology. MBC is still considered an incurable disease despite the fact that survival rates have improved in the last years. Cutaneous metastases are a rare site for metastatic spread and indicate advanced disease. In about 0.8% of all cancers skin lesions may be the first clinical manifestation of malignancy.
We present a case of an 82-year-old woman with no family history of BC, who was diagnosed with de novo metastatic estrogen/ progesteron receptors (ER/PR) positive and HER2-negative invasive lobular BC. The only site of secondary spread was the skin. She was treated with just endocrine therapy (ET) for 116 months (9 years and 8 months) with achieved and maintained long-term complete clinical (CR) and imaging response in both the primary tumor and the metastatic lesions. Accomplishing CR in MBC may correlate with a longer survival. Despite being a rare event, CR with ET may be attained, especially in lobular MBC, providing a good quality of life.To our knowledge this is the only case of lobular breast cancer with de novo metastatic manifestation as multiple skin metastases (SM), which achieved CR toaromatase inhibitor (AI) treatment (Anastrozole) with such impressive long-term overall survival.
Introduction
Most patients diagnosed with early BC have a long-term survival, but despite optimal treatment, nearly 30% of them relapse or progress[1-3]. The prognosis in the metastatic setting is more limited. Skin lesions are a rare site for metastatic spread and indicate advanced disease[4,5]. In about 0.8% of all cancers they may be the first clinical manifestation of malignancy[6]. Of all solid tumors SM are most frequently seen in BC and they most frequently occur on the anterior chest wall followed by the skin of the contralateral breast, scar sites, the arms, and the skin of the head and neck[7-9]. Approximately 6% of the patients with BC are de novo diagnosed with distant metastases and in only 6% of them cutaneous lesions are the only metastatic site[10]. Cutaneous metastases as a single metastatic site predict comparatively good prognosis for patients with hormone receptor positive tumors with a median survival of 55 months compared to 29.4 months for all de novo metastatic BC patients[11,12].
Case Presentation
We present a case of an 82-year-old woman with no family history of BC, who was diagnosed in April 2007 with a tumor mass in her left breast. The lesion was localized in the central part, involving almost the entire breast. Involvement of the nipple-areolar complex and the skin was visible with a macroscopic appearance as in Paget's disease. There was a single enlarged lymph node, measuring 12 mm in the ipsilateral left axilla and no enlarged lymph nodes in the supraclavicular region. There were multiple nodular lesions on the skin of the same breast, the abdominal wall and the back. (Figure 1).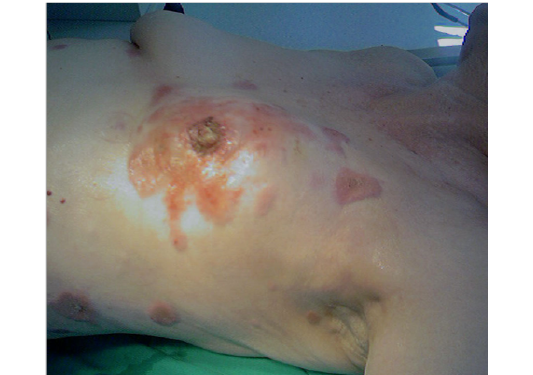 Figure 1: Left breast with a tumor mass with multiple nodular skin lesions
The mammography showed a single 34-mm tumor lesion, involving the whole central part ofthe left breast. The initial staging was done with an abdominal ultrasound, chest X-ray and bone scintigraphy that did not show any visceral or bone metastases. The process was thus classified as de novo stage IV - cT4N1M1 (skin). The only abnormal laboratory findings were the elevated levels of CA 15-3 - 111.73 U/ml (reference ranges 0 – 37 U/ml) and CEA - 8.56 ng/ml (reference ranges 0 – 5.5 ng/ml). As co-morbidities were listed asymptomatic mild lung emphysema and pneumofibrosis that were untreated. The initial osteodensitometry showed mild osteopenia (T-score -1.1). Her Eastern Cooperative Oncology GroupPerformance Status (ECOG PS) was 1 and body mass index (BMI) was 23. The patient did not take any medication until the diagnosis of BC. Figure 2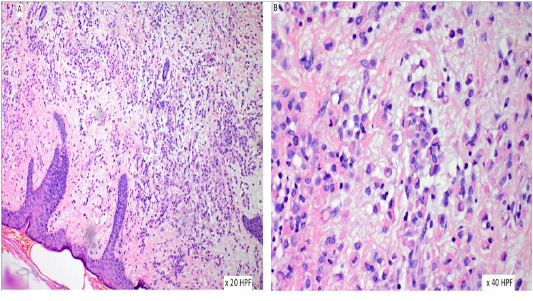 Figure 2: Classical lobular carcinoma with infiltration of the papillary derma, H&E stain. A) HPF x 20; B) Tumor cells with plasmacytic features, eosinophilic cytoplasm and cytoplasmic and nuclear nucleoli HPF x 40.
The incisional biopsy of the tumor and the excisional one of a single skin lesion showed a histology for classical moderately differentiated G2 invasive lobular carcinoma with skin infiltration and SM. (Figure 2A, B). The immune staining showed luminal A-like staining with strong homogeneous positivity for ER - 7/8 and PR - 6/8. (Figure 3A, B). The expression for HER2, p53 or E -cadherin was negative. The proliferative activity index Ki-67 was 16% and there was strong positive cytoplasm expression for bcl-2. Figure 3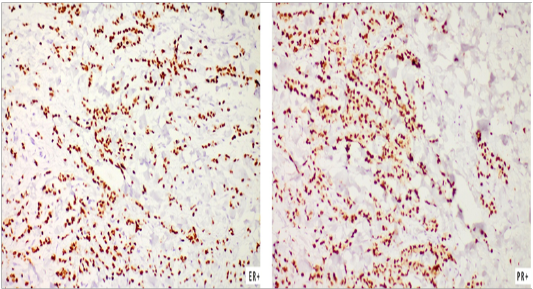 Figure 3: Typical immunohistochemistry with strong positivity for ER (A) and PR (B)
The multidisciplinary team recommended first line palliative ET with AI – Anastrozole, which was started in the end of April 2007. Supplementary treatment with vitamin D3 and calcium supplements were also initiated.
The patient was adherent to her treatment with no significant side effects besides mild joint pains, classified as grade 1 according to Common Terminology Criteria for Adverse Events (CTCAE) version 1.1. She was regularly followed with clinical examination, computed tomography (CT) scans of thorax and abdomen and laboratory tests. Annual osteodensitometry showed mild progressive worsening of the osteopenia, but without development of osteoporosis. Gradual regression of all tumor sites was noted after several months of treatment. Further on, there was a continuous sustained response of the primary tumor in the breast and in the axilla. After 13 months of ET in June 2008 the skin lesions were hardly visible – a partial clinical response was registered. (Figure. 4А,В).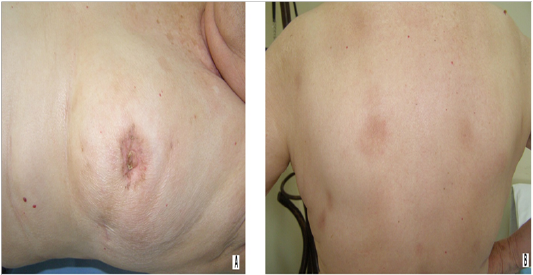 Figure 4: Partial clinical response after13 months of treatment with Anastrozole (June 2008). А) The primary tumor in the left breast and skin lesions; B) Remaining post-healing hyperpigmentation of the skin metastases on the back.
The primary tumor and all of the nodular skin lesions continued to gradually disappear and in February 2009 a CR was achieved. (Figure 5).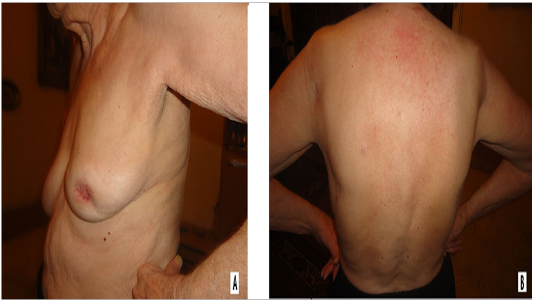 Figure 5: Complete clinical response after 21 months of treatment with Anastrozole (February 2009).
А) No signs of a residual tumor in the left breast and total disappearance of all skin lesions;
B) No evidence of the remaining skin metastases on the back
In May 2015 the treatment with Anastrozole was interrupted due to signs of osteoporosis (T-score - 2.6 despite optimal Vitamin D3/Calcium replacement). No additional treatment for osteoporosis (e.g. bisphosphonates) was available at that time in the absence of bone metastases. There were no clinical or imaging signs of progression of the oncological condition and the first line ET was shifted to Тamoxifen. The last clinical examination in December 2016 (after 113 months of ET) showed persistent CR in the breast, the lymph nodes and the SM.
No local procedures (e.g. surgery, radiotherapy, etc.) were performed. The breast ultrasound, whole body CT-scans and the tumor markers were completely normal. The patient continued her ET for 116 months in total with no evidence of disease (NED) until December 2016 when she died at the age of 91 years from non-cancer reason.
Discussion
Our case report shows a long-term survival and sustained CR in a metastatic luminal lobular BC to first line ET of both the primary tumor and the only metastatic site – the cutaneous lesions. MBC is still considered an incurable disease despite the fact that survival rates have improved in the last years[2]. SM are relatively more frequent in BC and there are different mechanisms described and suspected for this skin tropism such as direct invasion, extension through lymphatics, embolization through lymphatics and blood vessels, and accidental implantation during surgery[13]. Clinically, cutaneous metastases most frequently present as erythema-papular skin nodules and classify the BC into stage IV with M1 disease, which determines poor prognosis. However, in the absence of visceral involvement, some BC patients with skin involvement only may have a better prognosis and prolonged survival, especially of targeted therapy (endocrine or anti-HER2 treatment) is available. Some of the patients may even be cured but the reported cases more frequently refer to HER2 positive disease[14]. There are occasional reports of long-term control with CR of MBC, predominantly in low-burden metastatic disease[8]. De novo metastatic skin lesions are relatively less frequent than the ones as a sign of metachronous disease progression. Management of SM may include but is not limed to available local techniques (radiotherapy, surgery, etc.), but in ER+ disease systemic treatment with ET such asTamoxifen or AI shows long-term results[14].
It is well known that lobular breast cancers tend to spread to "more unusual" secondary sites. The etiology of this is unknown but it may refer to the loss of expression of the cell-cell adhesion molecule E-cadherin in invasive lobular carcinoma[15]. A retrospective analysis from 2016 reports a median survival time (MST) of 55.5 months for all MBC subtypes (59.9 months for the luminal one) with clear improvement in the recent years (2000-2008) in comparison to 1977-1989[16]. Some cases of luminal MBC (7.3-11.6%) have their first distant site of recurrence in the skin. The absence of E-cadherin also tended to be associated with the first distant metastases in the skin or the subcutaneous tissue[17].
In the adjuvant setting Anastrozole has shown a better disease free survival (DSF) if compared to Tamoxifen in postmenopausal women with early BC[18]. Superior survival of all third generation AIs compared to Tamoxifen in the first line setting of MBC is reported in a large meta-analysis with fewer side effects of Anastrozole compared to Tamoxifen[19,20]. All these logically lead to the consideration of AIs as first line ET[2].
A recent study with 570 patients with MBC reported a rate of 16% of achievement of NED status, assessed by imaging after systemic or local therapy and this was registered about 11 months after the start of the treatment of choice. More than half of all MBC patients (67%) were de novo stage IV at diagnosis and 37% were ER+/HER2-. With a median follow-up of 100 months, the 3- and 5-year overall survival (OS) rates for the entire group were 44% and 24%, respectively, compared to 96% and 78% for patients, attaining NED. The likelihood of achieving it in the metastatic setting was higher if local treatment strategies were used, in non-obese patients with de novo MBC, which were ER+ with only one metastatic site. Of note is also the fact that about 1/3 of all patients that achieved NED in the metastatic setting maintained this first remission. After progression, again about 1/3 of these patients achieved it as a second remission which in our view is remarkable[21].
We report a very rare case with cutaneous metastases from lobular BC with CR to Anastrozole therapy, in which skin involvement is the first and only sign of metastatic disease. The patient had no family history of BC and was diagnosed with luminal ER+/HER2- lobular BC. She was not amenable to local techniques as the metastatic spread was significant so she only received first line ET with Anastrozole that induced a long-term CR in the primary tumor as well as in the metastatic lesions. The shift to Tamoxifen in the last 2 years was not due to disease progression but due to side effects and osteoporosis as consequence of the ET with AI. It is not rare in the clinical practice to change the therapeutical approach from AI to Tamoxifen or vice versa in postmenopausal women due to side effects. In the absence of progression, a switch between ET with different mechanism of action is not assessed in clinical trials but may represent a successful therapeutic alternative.
We have found some similar cases with BC cutaneous metastases and CR to a therapy with Anastrozole alone or complex therapy, but none of it referred to a lobular cancer[22].
Conclusion
To our knowledge this is the only case of lobular breast cancer with de novo metastatic manifestation as multiple skin lesions, which achieved CR to AI treatment with such impressive long-term OS of 116 months – more than double than the cited data. If well tolerated, maintenance treatment, especially ET, may be continued on a long-term scale or life long as about 1/3 of those patients would remain with NED. Alteration to ET with different mechanism of action seems beneficial in cases of long-term response and taking into consideration potential toxicities. Even after progression, a second CR or NED might be achieved in about 30% of the cases which remains an important and significant percentage in latter lines of treatment even in MBC.
Conflict of Interest: The authors have no conflicts of interest or funding to disclose
References