Review
Publish Date : 2016-06-17
Journal of Heart and Cardiology
Arrhythmogenic right ventricular dysplasia Case presentation and review of the literature
Asmar Joseph
1
, Al-Chaabi Hussein
1
Article information
Affiliation
1Department of Cardiology, Mount Lebanon Hospital, Lebanon
Corresponding Author
Nasr, S., Head of Cardiology Department, Mount Lebanon Hospital, Lebanon, Tel: 00-9613723395; E-mail: samer@ssnasr.com
Citation
Nasr, S., et al. Arrhythmogenic Right Ventricular Dysplasia Case Presentation and Review of the Literature. (2016) J Heart Cardiol 2(2): 50-55.
Copy rights
© 2016 Nasr, S. This is an Open access article distributed under the terms of Creative Commons Attribution 4.0 International License.
Abstract
  An 18 years old female died suddenly while sunbathing. Her family consulted an electro physiologist. He scanned the family for long QT, Brugada and ARVD. ECGs were performed on all the family members, which showed PVC's in one of her cousins, for whom a 24 hours recording ECG showed 200 polymorphic PVCs. Echocardiogram was normal, and Signal-Averaged ECG (SAECG) is negative, he adopted a "watch and see" strategy (Figure 1-2).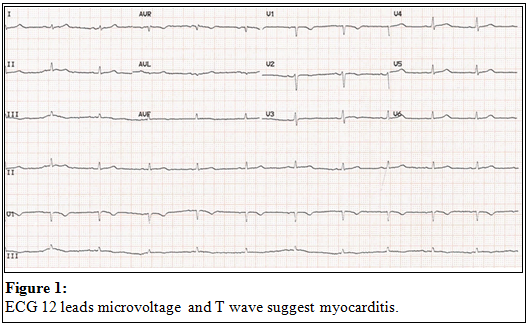 Figure 1: ECG 12 leads micro voltage and T wave suggest myocarditis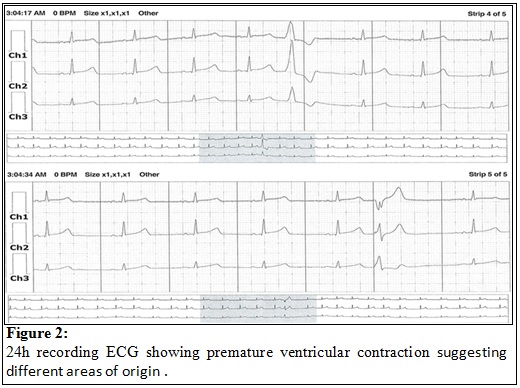 Figure 2: 24h recording ECG showing premature ventricular contraction suggesting different areas of origin
  A month later, the cousin passes out in the GYM with ventricular tachycardia at 230 bpm. Luckily, the Gym is at 3 min from an emergency department where she was successfully resuscitated. ECG post arrest was suggestive of ARVD (Figure 3). The physician was certainly disheartened by this near death experience, knowing that this won't be the last ARVD he misses. This cousin is a first degree relative of a sudden cardiac death victim without any other events in a family of seven siblings with a large extended family without sudden death. She only had premature beats. She was never syncopal.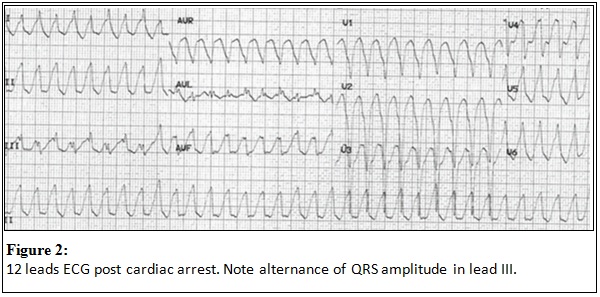 Figure 3: 12 leads ECG post cardiac arrest. Note alternance of QRS amplitude in lead III
  Following the ventricular tachycardia an ICD was implanted with two appropriate shocks in the last five years. CMR was positive in two siblings living abroad, one had an ICD implanted without therapies for 3 years follow up, and the other one is followed closely because of one minor criteria for ARVD.
  Thorough tests and screening were performed in almost half of the first degree family members, and CMR confirmed ARVD in one cousin who lives in a different country.