Case Report
Publish Date : 2019-12-05
International Journal of Neurology and Brain Disorders
Hearing Loss Due to Unilateral Nuclear Infarction
Otto J. Hernández-Fustes
1*
, Renato Puppi Munhoz
2
, Carlos Arteaga Rodriguez
3
Article information
Affiliation
1Complexo Hospital de Clínicas da Universidade Federal do Paraná, Serviço de Neurologia, Curitiba PR, Brazil
2Department of Medicine, Morton and Gloria Shulman Movement Disorders Centre, Toronto Western Hospital, University of Toronto, Toronto, ON, Canada
3Universidade Positivo, Curitiba, PR, Brazil
Corresponding Author
Hernandez-Fustes Otto J, Rua General Carneiro 181, SAM 25, 80060-900, Curitiba/PR; E-mail: otto.fustes@hc.ufpr.br
Citation
Hernandez-Fustes Otto, J., et al. Hearing Loss Due to Unilateral Nuclear Infarction. (2019) Int J Neurol Brain Dis 6(2): 36.
Copy rights
© 2019 Hernandez-Fustes Otto J. This is an Open access article distributed under the terms of Creative Commons Attribution 4.0 International License.
Introduction
A 53-years-old male, ex-smoker, assessed as an outpatient due to acute hypoacusia and tinnitus. Examination was remarkable for hearing loss on the right, abnormal Weber and Rinne tests, and positive Romberg sign to the left. Audiometry evidenced profound right sensorineural hearing loss, carotid Doppler showed moderate right internal carotid artery stenosis, and brain magnetic resonance imaging confirmed signs of subacute brainstem lesions in the area of the right vestibulo-cochlear nucleus. (Figure 1).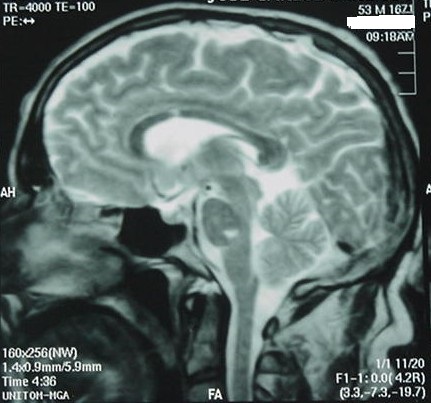 Hearing apparatus disorders are the main causes of hypoacusia, although ipsilateral ischemic lesions of the cochlear nuclei must be considered due to its vascular peculiarities[1-3].
References
1. Kingsley, R. The Auditory System. In: Kingsley R. (ed). Concise text of neuroscience. 2nd ed. (2000) Baltimore: Lippincott Williams & Wilkins 393-431.
PubMed│CrossRef│Others
2. Hwang, J.Y., Mun, S.K. Sudden unilateral sensorineural hearing loss caused by acute pontine infarction. (2011) Eur Neurol 65: 338–339.
PubMed│CrossRef│Others
3. Lee, H. Recent advances in acute hearing loss due to posterior circulation ischemic stroke. (2014) J Neurol Sci 338: 23–29.
PubMed│CrossRef│Others