Case Report
Publish Date : 2017-06-26
Multiple giant left atrial thrombi in Mitral Stenosis
Ramkumar S, Ezhilan J
Article information
Affiliation
Senior consultant cardiologist, Madras medical mission, Chennai. India
Corresponding Author
Suma M. Victor, DNB., Institute of Cardiovascular Diseases, Madras Medical Mission, 4A, J.J. Nagar, Mogappair, Chennai – 600 037, India, Tel: 91 44 26565961; Fax: 91 44 26565859; E-mail: sumavictor@yahoomail.com
Citation
Suma M. Victor, et al. Multiple Giant Left Atrial Thrombi in Mitral Stenosis. (2017) J Heart Cardiol 3(2): 31- 32.
Copy rights
© 2017 Suma M. Victor. This is an Open access article distributed under the terms of Creative Commons Attribution 4.0 International License.
Keywords
Mitral Stenosis; Rheumatic Heart Disease; Left Atrial Thrombi
Abstract
  Rheumatic Heart Disease (RHD) is rarely seen in developed countries but still is a common cause of Mitral valve Stenosis (MS) in the developing world. This case demonstrates unusual echocardiographic images of multiple giant Left Atrial (LA) thrombi as a consequence of chronic severe MS.
Introduction
Case Report
  A 55 year old lady, known to have RHD, underwent closed mitral valvotomy 15 years back, presented with palpitations and worsening dyspnoea. She had not been on any medication for past 10 years. Her ECG showed atrial fibrillation with fast ventricular rate. The chest roentgenogram demonstrated severe pulmonary hypertension with enlarged LA. Transthoracic echocardiography established a diagnosis of severe mitral restenosis (0.6 cm²) and revealed hugely dilated LA with multiple thrombi (Figure 1), the largest measuring 3.3 cm x 3.9 cm, close to the roof and septum with no obvious attachment (Figure 2). Two more thrombi are seen attached to the floor of LA and another thrombus in the appendage. Patient was stabilized with medication and underwent successful mitral valve replacement surgery with LA clot removal and LA appendage exclusion. Post operatively she had an uneventful course and asymptomatic on follow-up. (Supplementary: movie clips)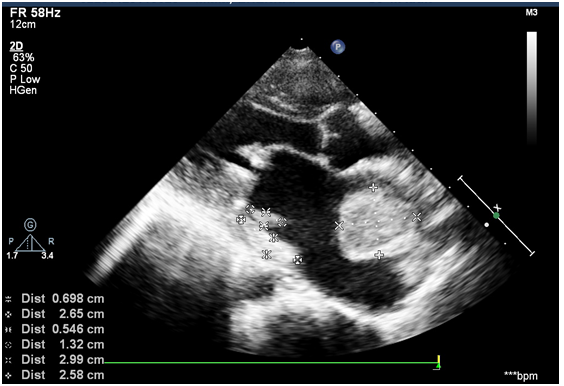 Figure 1: Hugely dilated LA with multiple thrombi.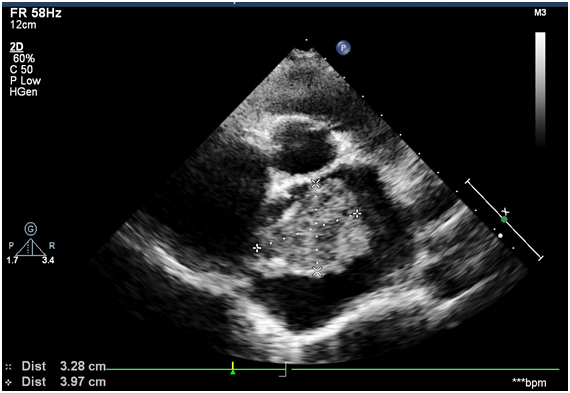 Figure 2: Giant left atrial thrombus.
Discussion
  Thrombi in LA occur nearly in 17% of patients with MS[1]. Frequent risk factors for thrombus formation are atrial arrhythmias, old age, and enlarged LA and low cardiac output state[2]. The common site for finding thrombi is in the left atrial appendage[3], based on the site of occurrence LA thrombi are classified into 7 types by Manjunath et al[4]. However, multiple thrombi are rarely seen in the present era even in developing countries. Although having multiple thrombi in LA increases the risk of stroke by manifold, our patient did not have any history of stroke even without any anticoagulation. Medical therapy in these patients include heart rate or rhythm control, anticoagulation to prevent thromboembolism, diuretics, prophylaxis against recurrent rheumatic carditis and infective endocarditis[5]. Definitive treatment includes mitral valve replacement with removal of thrombi and left atrial appendage exclusion to prevent further occurrence of thrombus formation. Prosthetic valve choice depends upon patient age, the risk of anticoagulation, and patient preference[6].
References