Review
Publish Date : 2015-04-22
Plasmonic Nanoparticles and Their Conjugates: Preparation, Optical Properties and Antimicrobial Activity
Article information
Affiliation
Polymer Institute, Institute of Measurement Science, Bratislava, Slovakia and Faculty of Industrial Technologies, TnUni, Púchov, Slovakia
Corresponding Author
Capek, I. Slovak Academy of Sciences, Polymer Institute, Institute of Measurement Science, Bratislava, Slovakia and Faculty of Industrial Technologies, TnUni, Púchov, Slovakia. E-mail: Ignac.Capek@savba.sk
Citation
Capek, I. Plasmonic Nanoparticles and their Conjugates: Preparation, Optical Properties and Antimicrobial Activity. (2015) J Nanotech Mater Sci 2(1): 14- 31.
Copy rights
© 2015 Capek, I. This is an Open access article distributed under the terms of Creative Commons Attribution 4.0 International License.
Keywords
Noble metal nanoparticles; Preparation Properties; Surface Plasmon; Bio conjugates
Abstract
To manipulate the size of noble metal particles on a nanometer scale are priority subjects in the field of nanotechnology. So far various approaches have been developed to synthesize noble metal nanoparticles in controlled sizes and dimensions. Among them the colloidal systems become broadly used. These systems can be made up of several very different reactants and solvents: a continuous medium water or alkane, surfactant and precursor(s). In some systems the formation of (sub) nanoparticles is based on the supersaturation of solution by reactants. The existence of the microenvironments gives them a particular ability to modulate the chemical reactivity of the reactants due to their compartmentalization in different microenvironments. The size and shape of noble metal nanoparticles follow the feed composition of reactants in the precursor solution, the reaction conditions and concentration and type of reactants. Surface modification and functionalization is expected to increase the stability of nanoparticles and organize them to the assembly of higher order array conjugates. Various soft and hard templates can be applied to produce noble metal nanoparticles in different shaped nanoreactors. Monodisperse gold nano crystals can grow inside soft templates and the cavities of hard templates by the reduction of metal ions trapped in the cavities. The interesting optical properties of noble metal nanoparticles and their (bio)conjugates results from the strong absorption in the visible spectrum region, so called the surface plasmon absorption. Some noble metal nanoparticles have been studied for their antimicrobial potential and have proven to be antibacterial and antiviral agents.
Introduction
  The gold nanoparticles have fascinated researchers since historic times because of their unique colors, size and shape dependent optical properties and environmental stability. While the most ancient use of colloidal gold is believed to have been in China and Egypt by alchemists, the brilliant colors of nanosized colloidal particles of silver, gold and copper were used in staining glasses as back as the 17th century. The use of gold colloid in biological applications began in our centuries, when the immunogold staining procedure, surface particle modifications and bio decoration of noble metal nanoparticles were invented.
  The preparation of (noble) metal nanoparticles has received considerable attention in recent decades because nanoparticles possess unconventional physical and chemical properties[1]. The unique physical properties of metal nanoparticles or fluid have generated considerable interest for their use in a wide range of diverse applications from templates for different probes to in vivo optical and magnetic manipulation in biomedical systems[2]. In particular, due to their large surface-to-volume ratio, the optical and magnetic properties of nanoparticles are dominated by surface effects, particle-particle and particle-support interactions and surface particle reactivity[3]. Nanoparticles exhibit novel material properties which largely differ from the bulk materials due to these small sizes, including quantum size effect on photochemistry, nonlinear optical properties of semiconductor or the emergence of metallic properties with the size of the particles, the high penetration efficiency into the cells and energy storing ability. Zero-(0D) and one-dimensional (1D) noble metal nanoparticles have extensive applications, such as antibacterial materials[4], two-dimensional (2D) and three-dimensional (3D) assemblies can act as antistatic materials, cryogenic superconducting materials[5] and biosensor materials.
  Many nanogold and nanosilver based environmental technologies (e.g., sensors, sorbents, reactants, templates, bioprobes,) are under very active research and development, and are expected to emerge as the next generation environmental technologies to improve or replace various conventional environmental technologies[6]. Some of the most promising near term realizations of nanotechnology are at the interface of 0D, 1D or 2D particles and their conjugates and assemblies. Because many biomolecules have specific binding properties in self-assembly processes, the bio decorated nanoparticles and their self-assemblies are attractive materials for nanotechnology.
  Organically functionalized or bio decorated metal nanoparticles are prepared by several approaches. Most existing approaches explore the strong affinity of thiols to gold and silver[7] and the use of disulfides[8] and thioethers[9] as capping and stabilizer agents as well. Polymers functionalized with molecular recognition groups[10], thioacetate groups[11], amino and carboxylate groups and tetradentate thioether ligands[12] have recently been used to mediate the formation of colloidal stable 0D or 1D nanoparticles or related assemblies of two or three-dimensional gold and silver nanoparticles assemblies.
  UV-visible spectroscopy is a valuable tool for the light absorbance and structural characterization of silver and gold nanoparticles as well. It is well known that the optical absorption spectra of noble metal nanoparticles are dominated by surface plasmon resonances (SPR), which is shifted to longer wavelengths with increasing particle size, increased particle aggregation, 1D particle formulation and 2D and 3D assemblies. We could also mention that the surface plasmon resonance of individual gold metal (especially gold and silver) nanoparticles make them ideal candidates for molecular labeling and fluorescence probe formulation, where phenomena such as surface enhance Raman scattering (SERS) can be exploited.
  Silver and gold have long been known for its antimicrobial properties. Noble metal nanoparticles are reported to show antimicrobial, antibacterial and antiviral properties. Silver's mode of action is presumed to be dependent on Ag+ ions, which strongly inhibit bacterial growth through suppression of respiratory enzymes and electron transport components and through interference with DNA functions[13]. It is interesting to note that silver atoms and their aggregates (sub and nanoparticles) shows the similar activities as their cations. This was highlighted in medicine where the potential of metal nanoparticles has been explored for early detection, diagnosis, and treatment of diseases[14].
Synthetic Approaches
Gold and Silver Nanoparticles
  A number of techniques have been used for producing nanoparticles, including vapor phase techniques[15], sol-gel methods[16]. sputtering[17], coprecipitation[18] etc. Two main methods can be employed for the preparation of noble metal nanoparticles: coprecipitation (supersaturation) and chemical reduction. In both cases, the presence of surfactant is required to govern the growth process and the particle agglomeration. Typically, the coprecipitation reactions involve the thermal decomposition of organometallic precursors[19]. The chemical reduction occurring in colloidal assemblies is another approach for the formation of size and shape controlled nanoparticles[20]. A major benefit of chemical methods is their relatively inexpensive investment of capital equipment.
  Gold nanomaterials have also been synthesized using a variety of methods, including hard template, chemical and bioreduction and synthesis in micellar solutions (soft templates)[21,22]. The successful utilization of silver or gold nanoparticles (AgNPs or AuNPs) in biological assays relies on the availability of synthetic methods generating nanoparticles with the desired characteristics, namely high solubility in both oil and water, and adequate morphology, size dispersion, and surface functionalities. Most commonly, gold nanoparticles are synthesized by chemical or electrochemical reduction of a gold (III) precursor compound in the presence of a capping agent, i.e. a compound able to bind to the nanoparticle surface blocking its growth beyond the nanometer range and stabilizing the colloid in the particular solvent used. Control over the shape and size of the AuNPs is usually achieved through the careful selection of the experimental conditions, namely reducing agent, reaction time, temperature, and capping agent. A common approach is to use capping agents with strong affinity for gold, e.g. thiol capping agents. This allows the synthesis of AuNPs with good size dispersion but usually only soluble in organic solvents[7] requiring an additional step of extraction of the particles into water. In addition, exchange of strongly binding capping agents is usually cumbersome, which makes this type of AuNP less versatile for biological applications. Due to its simplicity and high yield, the most commonly used method for preparation of spherical AuNPs for biological assays is the citrate reduction method[23]. The use of citrate as a weak capping agent is very convenient due to its easy post-synthesis treatment, since it can be easily replaced by other capping agents, e.g. thiol capping agents, bearing an appropriate functionality for binding of the biological analyte of interest.
  The co-precipitation (homogeneous and heterogeneous nucleation) of prime nanoparticles is based on the supersaturation of solution by reactants such as precursors (metal salts), reducing agent, stabilizers, co-stabilizers and additives. The increased solubility of component in the continuous phase can be reached by the rising in temperature. The supersaturation state can be then reached by the reduction in temperature. Generation of super saturation through in situ chemical reactions by converting highly soluble chemicals into less soluble chemicals is a good example of this approach. In a typical homogeneous nucleation synthesis consisting of one step process in which precursor(s), stabilizer(s) and other additives are stirred in the oil or water continuous phase and then treated by the heat[24]. The heterogeneous nucleation of metal particles consists of several steps process[2]. In a typical heterogeneous nucleation the first step is the formation of the primary (seed) metal particles (or using the solid surfaces) and then the growth of sub nanoparticles is achieved by the addition of precursor(s), stabilizer(s) and additives[Figure 1].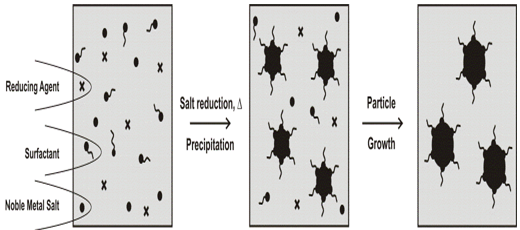 Figure 1: Proposed mechanism for the formation of noble metal nanoparticles by the supersaturation/precipitation approach[24].
  Whether these colloids are stabilized or undergo aggregation depends on the net potential of interparticle attraction and repulsion forces. The interparticle attraction force is van der Waals force, which is responsible for the nanoparticle aggregation. The two major repulsion forces that contribute to noble metal nanoparticle stabilization are electrostatic and steric repulsion forces[25]. Electrostatic repulsion results from the negatively or positively charged ionic groups at ionic stabilizers. The charges, together with the counter ions in the medium, form a repulsive electric double layer that stabilizes colloids against van der Waals attraction[26]. A characteristic feature of the electrostatic repulsion force is that it is highly sensitive to the bulk ionic strength: the electrostatic repulsion force diminishes sig-nificantly at high salt concentration where electric double layer is highly suppressed. Steric stabilization (and/or polymeric stabilization)[25] is another key contribution to the repulsion forces in the current system. Amphiphilic block copolymers and/or macromolecules grafted on colloid surfaces impart a polymeric barrier that prevents colloids from coming close enough such that vanderwaals attractive forces can dominate. Steric stabilization is highly dependent on the thickness of polymer layer and surface graft density. In general, thicker polymer layers and higher graft densities lead to more effective steric stabilization effect.
  Hiramatsu and Osterloh have used a high temperature solution phase synthesis as an inexpensive, versatile, and very reproducible method for the large-scale synthesis of organoamine protected gold and silver nanoparticles in the 6-21 nm (Au) and 8-32 nm (Ag) size ranges and with polydispersities as low as 7%[27]. In terms of achievable particles sizes, polydispersites, and simplicity (only three reagents, tetrachloroauric acid, oleylamine, and a solvent are required) the method is superior to that of Jana et al[28]. The particles are stable in dried form and they can be easily modified with hydrophobic and hydrophilic thiols to afford nanoparticles that are soluble in organic solvents or in water. Organoamine protected gold and silver nanoparticles of variable sizes form by refluxing a solution of tetrachloroauric acid, silver acetate and oleylamine in toluene.
  Of the chemical processes, reverse micelle (microemulsion) synthesis has been recently demonstrated to be a viable method for producing a wide array of metals and metal oxide nanoparticles[29] over a relatively narrow particle size distribution. Reverse micelle synthesis utilizes the natural phenomenon involving the formation of spheroidal aggregates in a solution when a surfactant is introduced to an organic solvent, formed either in the presence or in the absence of water[30]. Micelle formation allows for a unique encapsulated volume of controllable size through which reactions and subsequent development of metal and metallic compounds can be produced. Aggregates containing ï