Editorial
Publish Date : 2016-06-23
Journal of Stem Cell and Regenerative Biology
Regenerative Medicine Weapons to Fight the Degenerative Defect of Musculoskeletal System Disorders
Article information
Affiliation
Department of Surgery, Faculty of veterinary medicine, Alexandria University, Egypt
Corresponding Author
Hoda Elkhenany, Department of Surgery, Faculty of veterinary medicine, Alexandria University, Egypt 22785; E-mail: hoda.atef@alexu.edu.eg
Citation
Elkhenany, H. Regenerative Medicine Weapons to Fight the Degenerative Defect of Musculoskeletal System Disorders. (2016) J Stem Cell Regen Biol 2(2): 92- 93.
Copy rights
© 2016 Elkhenany, H. This is an Open access article distributed under the terms of Creative Commons Attribution 4.0 International License.
Keywords
Musculoskeletal system disorders; Regenerative medicine; Stem cells
Introduction
Editorial
  To stop the extension of tissue degeneration resulted from any disease, you can use the usual treatments antibiotics, anti-inflammatory, anti-histaminic and so on. But to fight the degenerated tissue itself and restore its function and healthy structure, you will need more advanced and strong weapons. In the regenerative medicine field, there are 3 major weapons which are stem cells, growth factors and scaffolds. In the past, doctors used to use only one of them at a time but nowadays they tend to combine 2 or the 3 in one shot.
  The concept of combining the stem cells, growth factors and scaffold was demonstrated to be efficient for regeneration of bone[1,2], cartilage[3], muscle[4], tendon[5] and nerve[6].
  Most of these studies was conducted at in vitro and in vivo level, supposing that will perform the same efficiency when be applied in the clinical cases.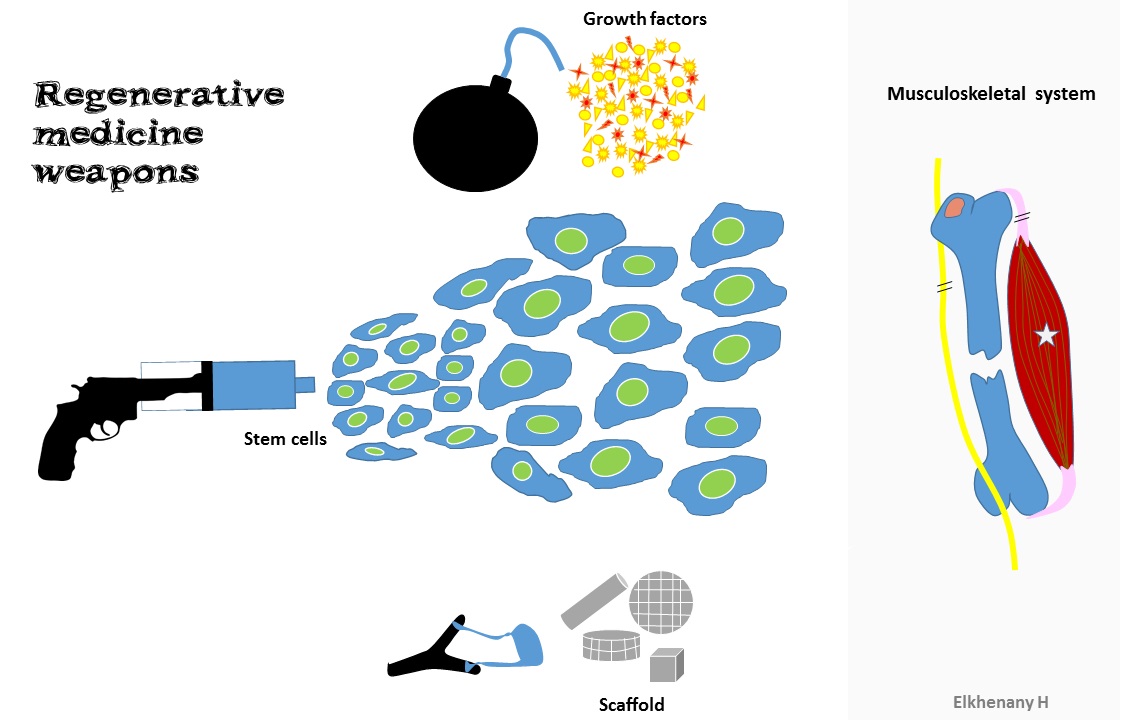 Figure 1:
References