Short Communication
Publish Date : 2016-01-25
Regulatory T Cell: Key Element in Maintaining Self-Tolerance and Homeostasis
Article information
Affiliation
1Graduate Studies in Immunology, Faculty of Medicine, University of Zulia, Maracaibo, Venezuela
2Institute of Biological Research, Faculty of Medicine, University of Zulia, Maracaibo, Venezuela
Corresponding Author
Tania Beatriz Romero-Adrian, Graduate Studies in Immunology, Institute of Biological Research, Faculty of Medicine, University of Zulia, 69 B Avenue, 77 - 49th Streets, Panamericano Sector, Maracaibo, Venezuela, Tel: +58-0261–7532659; Fax: +58-0261-7533822; E-mail: corporacionbiomedica.alt@gmail.com
Citation
Romero- Adrian, T.B., et al. Regulatory T cell: key element in maintaining self-tolerance and homeostasis. (2016) J Gastrointest Disord Liver Func 1(2): 34- 35.
Copy rights
© 2016 Romero- Adrian, T.B. This is an Open access article distributed under the terms of Creative Commons Attribution 4.0 International License.
Keywords
Helicobacter pylori; Immunosuppression; Stomach and Duodenal mucosa; Inflammatory disease
Introduction
  With the development of new technologies in the 1990s convincing evidences are presented in relation to the existence of immunosuppressive cells called Regulatory T cells[1]. These cells maintain self-tolerance and homeostasis (Figure 1).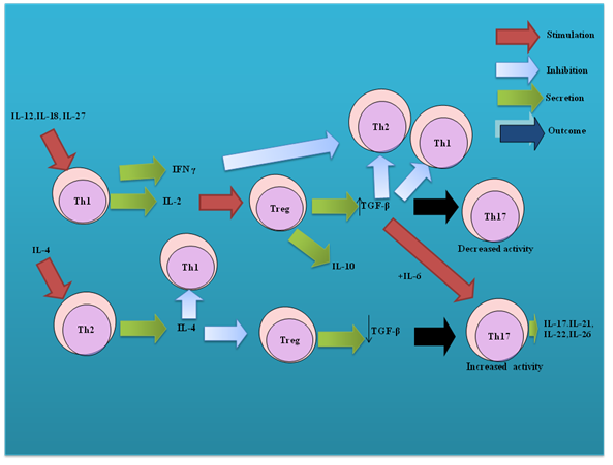 Figure 1: Treg cell and its connection with other cellular subpopulations through cytokines.
Th: T helper, Treg: Regulatory T cells, IL: Interleukin, IFN- γ: Interferon- γ, TGF-β: Transforming growth factor-beta
  There are different subsets of Treg cells. CD4+CD25high Treg cells are the best-described subset. A key characteristic of CD4+CD25high Treg cells is its ability to induce anergy in vitro and suppress immune responses[2,3]. Some studies suggest that CD4+CD25high Treg cells inhibit proliferation of effector CD4+CD25- T cells and CD8+ T cells by arresting the proliferation of these cells at G1-S interphase of the cell cycle[4]. Recent data also indicate that CD4+CD25high Treg cells regulate through their cytokines to Th17 cells[5]. The total number of CD4+CD25high Treg cells in human peripheral blood increases with age, despite thymic involution[6]. Surface markers associated with CD4+CD25high Treg cells are of identification, homing/trafficking, activation/cell death and suppressive function. These cells have been classified into into natural (n) and inducible (i). The first originated in the thymus and the second coming of naive T cells. Natural Treg cells represent 5-10% of CD4+CD8- thymocytes in humans, mice, and rats[7]. Expression of the transcription factor forkhead box P3 (FOXP3) is considered a regulator of Treg development and function[8].
  When FOXP3 is defective or absent, it is present a recessive disorder immune dysregulation, polyendocrinopathy, enteropathy, X-linked (IPEX) syndrome the which is characterized by aggressive autoimmune manifestations that are usually fatal within the first 2 years of life, unless corrected via hematopoietic stem-cell transplantation[9,10]. Human ZAP70-deficient patients present a dramatic decrease in the frequency and number of tTregs[11]. Interestingly, CD4+ CD25+ tTregs were shown to frequently express two functional TCRs, in association with enhanced FOXP3 expression, suggesting that dual TCR expression may favor tTreg lineage commitment in humans[12].
  CD4+CD25high Treg cells participate in immune responses[13] against malignant cells[14] allogeneic organs, stem-cell grafts[15], infectious agents[16,17] and celiac disease[18]. These cells are key part of the immune response in health and disease and possess properties of plasticity and interconvertibility under certain circumstances transforming into others phenotypes such as Th1, Th2 and Th17 by which they are located as a fundamental pillar in the immune response.
References