Commentary
Publish Date : 2016-08-25
Synchrotron radiation phase contrast imaging for clear visualization of magnetic particles
Article information
Affiliation
Department of Radiology, Shanghai Jiao Tong University School of Medicine, Rui Jin Hospital, Shanghai
Corresponding Author
Rongbiao Tang, Department of Radiology, Shanghai Jiao Tong University School of Medicine, Rui Jin Hospital, Shanghai 200025, China, E-mail: tangme8688258@sina.com
Citation
Tang. R. Synchrotron Radiation Phase Contrast Imaging for Clear Visualization of Magnetic Particles. (2016) Bioinfo Proteom Img Anal 2(2): 103- 104./p>
Copy rights
© 2016 Tang. R. This is an Open access article distributed under the terms of Creative Commons Attribution 4.0 International License.
Introduction
  Magnetic particles are broadly used for separating different components of a sample. The visualization of magnetic particles is very essential for qualitation and quantification of the components. However, conventional x-ray imaging techniques still have difficulties to clearly show magnetic particles especially when their x-ray attenuation is weak. Synchrotron radiation (SR) phase contrast imaging (PCI) has been widely utilized to improve soft tissue contrast[1-5]. In our study, SR absorption-based imaging (ABI) could not reveal the magnetic particles at all. In comparison, PCI could afford clear revelation of the beads (figure 1). The aggregation characteristics of magnetic particles under a magnet could also be evidently presented using PCI (figure 2). The results demonstrate that PCI has considerable potential for further detection studies by visibly displaying the magnetic particles.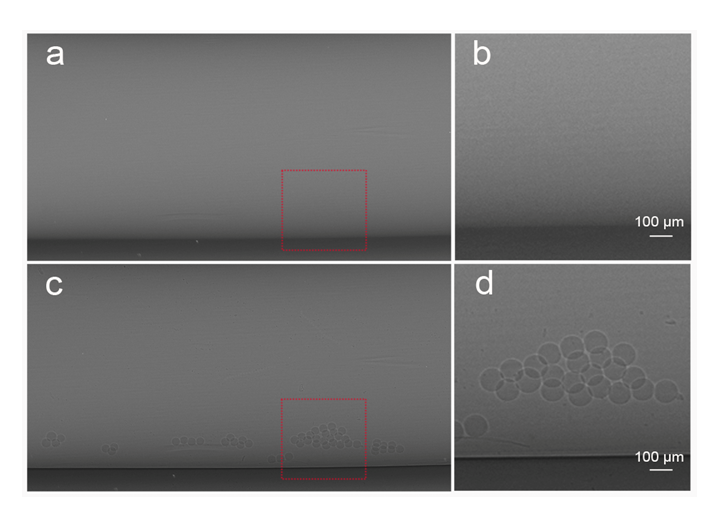 Figure 1: SR images of magnetic particles. (b) and (d) are magnified images of the region in a red box in (a) and (c), respectively. The magnetic particles could be clearly seen on phase contrast image (d), but not on absorption contrast image (b).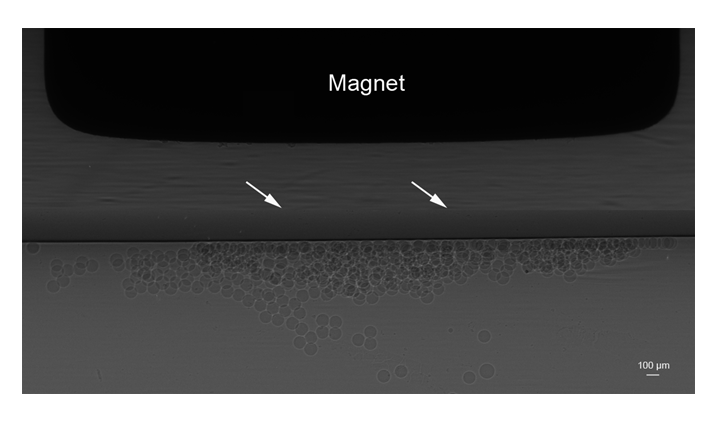 Figure 2: PCI of magnetic particles under the influence of a magnetic field. Many magnetic particles were found to assemble along the upper edge of PE tube (arrows) by placing a permanent magnet over the tube.
References